Grande Mariner's Shame - Orange Brandy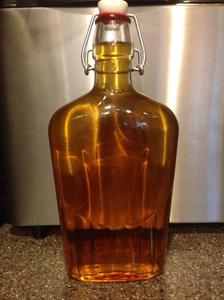 Grand Marnier tastes like fake cheap candy compared to this stuff. Cheers!
1. Prepare the following ingredients:
-The zest of 6 organic Valencia oranges - no pith!
-3/4 cup granulated white sugar
-750 ml Armagnac de Montal VS brandy or best you can find.
-Use a spare 1 liter liquor bottle to put everything in. Save the brandy bottle to filter back into.
2. In batches, combine sugar and zest with mortar and pestle. Pound until paste-like.
3. Mix in Armagnac and allow to macerate 4-6 months.
4. Filter through a coffee filter. It will take a while to filter!
So what to do with it?
Brays Margarita's
One Drink
-3/4 shot Grande Mariners Shame
-1/4 shot cane sugar
-1/2-1 limes, depending on size
-1.5 shot tequila
-5 cubes ice
Shake in a shaker and pour into a salt rimmed glass.
A Pitcher
-1/2 cup Grande Mariners Shame
-1/2 cup cane sugar
-5 limes + 1 lemon
-1.5 cup tequila
-2.5 trays ice
Blend in a blender until smooth.